Ep.9 – Creativity in the sciences: using hybrid online, in-person teaching strategies for resilient education
2 years ago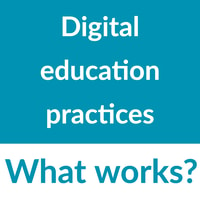 In this episode, Amanda Rasmussen, an assistant professor and plant ecophysiologist in the Faculty of Sciences at the University of Nottingham, talks about how she used hybrid online, in-person teaching strategies to create a more resilient educational experience.
Part of this hybrid approach involved students using a modern collaboration system for group work and producing creative assessments relevant to their subject that also served as a departure from traditionally writing-heavy assignments.
Support Digital Education Practices: What works? by donating to their Tip Jar: https://tips.pinecast.com/jar/digital-education-practices
Find out more at https://digital-education-practices.pinecast.co
This podcast is powered by Pinecast.