Ep.8 – Reflections upon trying out MS Teams
Lessons learned from using MS Teams to facilitate group consultancy projects
3 years ago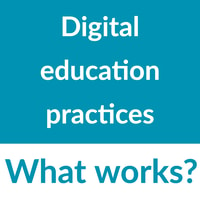 In this episode, Helen Meek, a Senior Teaching Fellow the Department of Marketing at the Lancaster University Management School, reflects on how she integrated in Microsoft Teams in the autumn of 2019 onto a 3rd year marketing consultancy project module.
Helen provides some insight into the lessons learned from implementing MS Teams in autumn 2019 and on how using a collaboration tool helped both her students and staff as the Covid19 pandemic started to shut down society across the UK.
Support Digital Education Practices: What works? by donating to their Tip Jar: https://tips.pinecast.com/jar/digital-education-practices
Find out more at https://digital-education-practices.pinecast.co
This podcast is powered by Pinecast.